---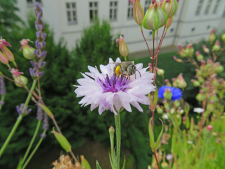 A four-spotted furry bee (Anthophora quadrimaculata) sits on a cornflower (Cyanus segetum). It nests in the soil.
Foto: Uni Halle / Panagiotis Theodorou
Download
---
Kontakt für die Medien
Tom Leonhardt
Wissenschaftsredakteur
Telefon: +49 345 55-21438
E-Mail
---
Ansprechpartner*in zu dieser Pressemitteilung
Dr Panagiotis Theodorou
Institut für Biologie der MLU
Telefon: +49 345 55-26503
E-Mail
Internet
---
---
Kontakt
Manuela Bank-Zillmann
Telefon: +49 345 55-21004
Telefax: +49 345 55-27404
presse@uni-halle.de
Universitätsplatz 8/9
06108 Halle
---
---
Login für Redakteure
---
---
Global analysis on pollinators in cities: Wild bees and butterflies are at particular risk
Nummer 076/2023 vom 22. Juni 2023
Cities are expanding all over the world and this is having a significant impact on the habitats of many animal species. The result: impervious surfaces, a reduction in plant diversity and more environmental pollution, such as light and air pollution. Pollinators, whose work is essential for a thriving ecosystem and hence human food security, are particularly affected. "There are many studies that have examined the relationship between urbanisation, pollinators and pollination performance and have found negative effects. Because this work is very complex and time-consuming, the studies are usually limited to specific cities or regions," explains biologist Dr Panagiotis Theodorou from MLU. In order to obtain a global overview, he and researchers from the Chinese Academy of Sciences analysed data from 133 individual studies that looked at how urban growth impacts pollinators and their pollination performance. The analysis takes into account all of the Earth's continents with the exception of Antarctica.
The results paint a clear picture: "As urbanisation increases, the abundance and biodiversity of many pollinators decrease," says Theodorou. However, certain groups are more affected than others. The team found that butterflies were the most negatively impacted. "Butterflies are particularly susceptible to changes in their environment. They depend on very specific plants for their nutrition and larval development. Since these are found less and less in cities, the populations of many butterfly species are also declining," explains Dr. Huan Liang from Wuhan Botanical Garden, Chinese Academy of Sciences. Also particularly affected are pollinators that are already active in early spring and feed on the nectar and pollen of early flowering plants. Wild bees that nest in the ground often lack suitable breeding sites in cities and their populations are declining. Less affected, on the other hand, are wild bees that nest above ground, in cavities or insect hotels.
However, the studies show that the declining numbers do not necessarily result in a decrease in pollination performance. Pollinators still regularly pollinate plants, which produced enough seeds to propagate. According to the researchers, this is mainly due to honeybees, which, together with bumblebees, compensate for the reduction in urban pollinator diversity. "Honeybees are very productive and are kept by hobby beekeepers in many places," says Liang. While this is good for urban plants, it can negatively impact other pollinators because honeybees often displace other native pollinators and can transmit diseases to wild pollinators.
The study provides important information to protect biodiversity and for sustainable urban development. The analysis shows, for example, that cities with a greater diversity of flowers are usually home to more and many different types of pollinators. "If we design our cities better in terms of what they offer to pollinators, we can at least compensate for some of the negative consequences of urban growth," concludes Panagiotis Theodorou.
The study was funded in part by the Chinese Academy of Sciences and the National Natural Science Foundation of China.
Study: Liang H., He Y.-D., Panagiotis T., Yang C.-F. The effects of urbanisation on pollinators and pollination: A meta-analysis. Ecology Letters (2023). doi: 10.1111/ele.14277
---
---